DIY: yarn wreath with felt flowers by
DANIELLE BURKLEO
i am smitten with yarn wreaths.
i want to just keep making them, you may feel the same after reading this.
supplies: straw wreath, yarn, felt, scissors, glue, and any other embellishments your little heart desires.
step 1: keep the plastic wrapping on the straw wreath. i have made yarn wreaths in the past and taken the plastic off and it is much more complicated, time consuming and MESSY. you can definitely use a foam wreath as well, but i find that the yarn goes on easier with a plastic cover and the foam wreaths usually aren't wrapped.
step 2: wrap wreath with yarn. you will want to keep it tight and keep in mind that it is close to impossible to have the yarn perfectly lined up on the entire wreath.imperfections = perfection. this may take you a while. but you'll get into a groove, don't you worry. simply tie a knot to begin and tie one at the end, as well. i used one entire roll of yarn made by...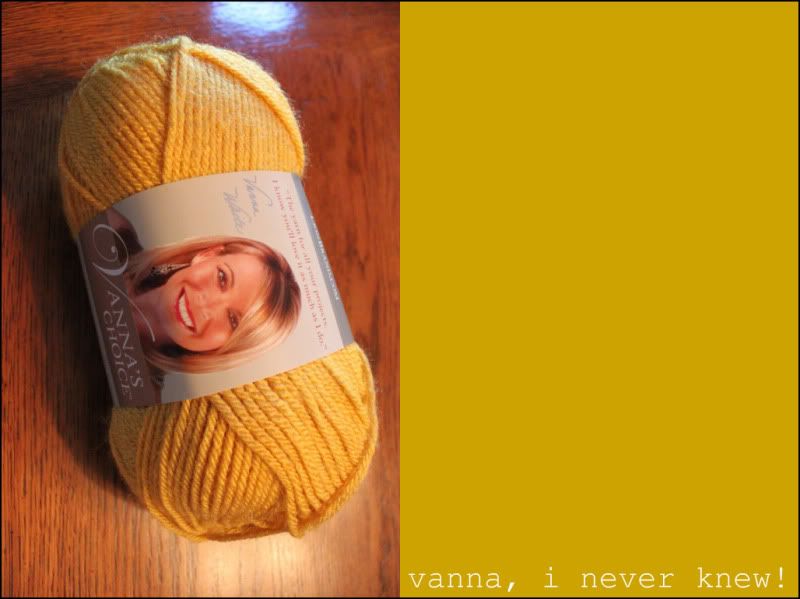 step 3: make felt flowers:
cut a circle out of felt. the bigger the circle, the bigger the flower.
cut around the outside of the circle to make it have a waved look.
pick any point on the circle to start cutting the felt. you will be cutting a large spiral shape so that you will end up with one long thin strip of felt.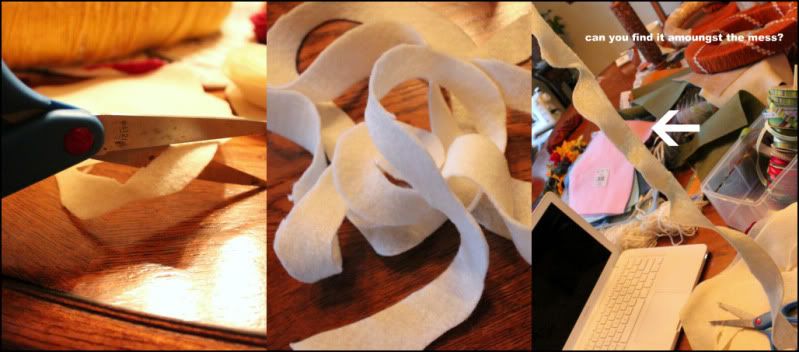 when you get to the very end you will have a circle or oval shape left that you will want to leave and not cut into. this will be the base of your flower.
take the end of the felt where you began cutting and start to roll. you will want to keep it tight in the beginning so it holds. if you want a smaller more circular flower keep it tight. if you want it to have a more open look you can keep it a little more loose as you roll it (this is what i did).

once you get to the end you will glue the bottom onto the flower. i used hot glue, you can use a strong craft glue as well.
make as many flowers as you'd like. i made mine a few different sizes and used two different colors.
step 4: glue and place them randomly. add any other embellishments that you would like.
step 5: add a ribbon, raffia, twine, fabric, etc to hang your wreath with.
step 6: admire your beautiful, handmade goodness.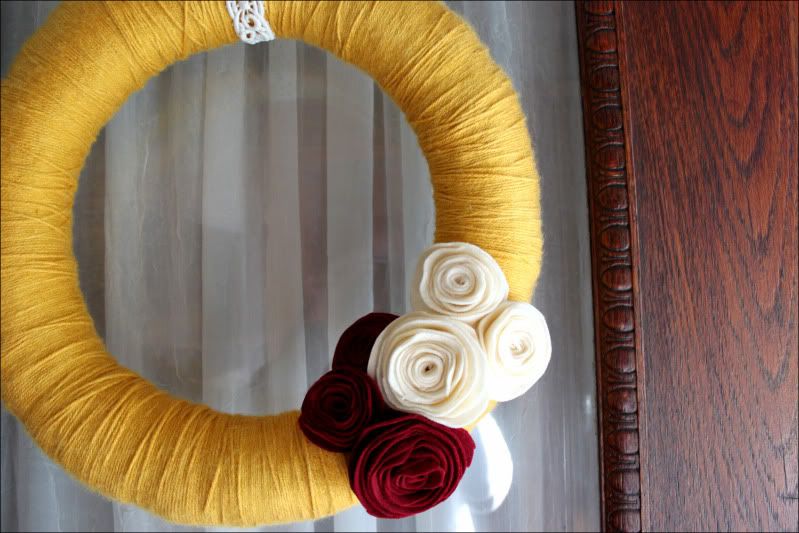 now...whatcha waitin' for?