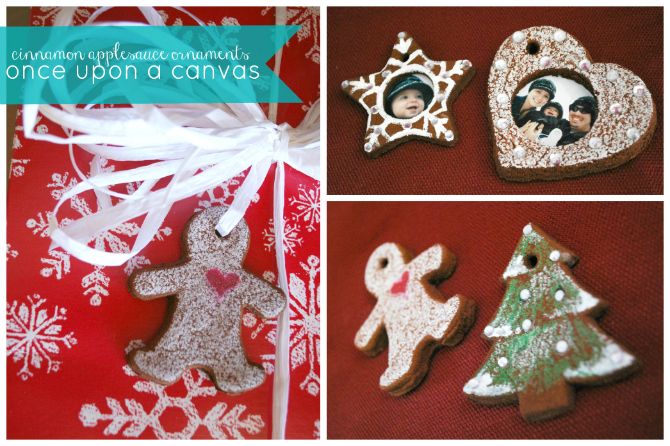 Hi, I'm Courtney ~ a Military Wife, Art Teacher, and Momma to a sweet blue~eyed little boy who's generous with his kisses and loves Mickey Mouse. I share everyday art projects and creativity for children and families, along with my stories of love, faith, and motherhood on Once Upon a Canvas. I dream of fresh boxes of Prismacolors, textured paper, and of one day having my own art studio where I can teach art to little ones on paint~stained tables all day long.Cinnamon Applesauce Ornaments take me back to my childhood.

They're adorable. Simple to make. And, they make your house smell like Christmas.

What's not to love about that?

There's just something about those sweet, homemade ornaments I made as a kid that my parents have held onto all of these years. A little cinnamon applesauce gingerbread man I made in Kindergarten hangs on their tree to this day.

To make your own Cinnamon Applesauce Ornaments with your little ones, here's...
What You'll Need:
+ 2 Cups of Applesauce.
+ 2 Cups of Cinnamon.
+ A Large Bowl.
+ A Large Spoon.
+ A Rolling Pin.
+ Extra Cinnamon to prevent sticking.
+ Wax Paper.
+ Tape.
+ An Assortment of Cookie Cutters.
+ A Cookie Sheet.
+ Ribbon (for hanging your ornaments).
+ A Straw or Pencil (for making nice, round holes to thread the ribbon through).
+ A Hamburger Spatula (for transferring the ornaments to the cookie sheet).
*I was able to make 25 small to medium ornaments from this recipe.

What You'll Do:
+ Turn on your favorite holiday tunes & make yourself a cup of hot chocolate (just a suggestion ;-)).
+ Mix together the Applesauce & Cinnamon with your spoon in a large bowl, then knead it together until it's the consistency of cookie dough.
+ Tape a large sheet of wax paper onto your work surface.
+ Dust a little bit of cinnamon onto both the wax paper and rolling pin to prevent sticking.
+ Roll out your dough to at least 1/4 inch thick.
+ Cut out shapes with your cookie cutters, then gently transfer them to your cookie sheet with the hamburger spatula.
+ Gently use a straw or pencil to poke holes into your ornaments for hanging.
+ Bake at 150-200 degrees for 3 to 5 hours (I baked mine for approximately 4).
+ Allow them to cool.
+ Decorate as desired.
+ Thread ribbon through the holes you punched.
+ Finally, hang them on your Christmas tree or tie them to a present as a creative alternative to a gift tag.

Use small, round cookie cutters to make easy homemade ornament frames for your unforgettable holiday memories. Simply attach your favorite photographs to the back with a little tacky, all purpose glue.

Dress them up with a little paint (nail polish works great to add a little bit of acrylic shine, and clear polish is perfect for binding small rhinestones to the surface), or let your kids color on them with crayons.

I love the way crayons give the ornaments that realistic frosted gingerbread cookie look.

So very nostalgic.

Homemade ornaments not only add a little warmth to your family Christmas tree every year, they help you create precious holiday memories with your children that you can enjoy every Christmas ~ for years to come.