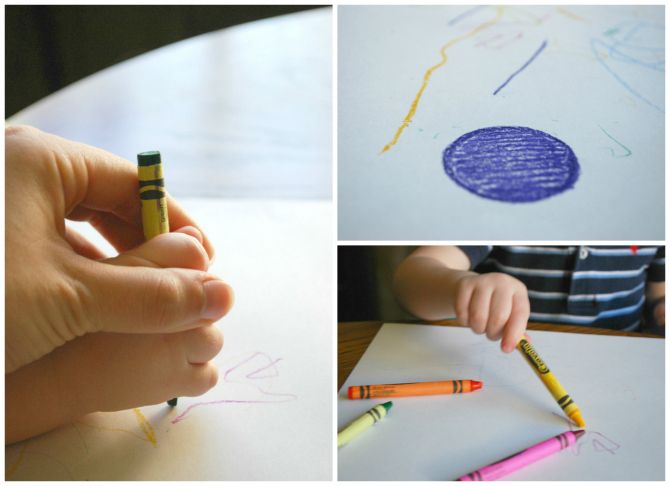 Hi, I'm Courtney ~ a Military Wife, Art Teacher, and Momma to a sweet blue~eyed little boy who's generous with his kisses and loves Mickey Mouse. I share everyday art projects and creativity for children and families, along with my stories of love, faith, and motherhood on Once Upon a Canvas. I dream of fresh boxes of Prismacolors, textured paper, and of one day having my own art studio where I can teach art to little ones on paint~stained tables all day long.
My unforgettable (in every way) experience teaching a Pre~K/Kindergarten Art class taught
me
that crayons are not just for coloring books ~ they are training wheels; learning tools; paintbrushes for little hands.
They help to develop fine motor skills, they're nostalgic, and they're loved by all (unless you happen to be my Mom the day she discovered the box of crayons that had melted to the dashboard of the family car ~ where I'd left it in the middle of a summer vacation).
Sorry, Mom.
Teaching a child to color may seem as easy as putting a box of fresh crayons and a clean sheet of paper in front of them, but if your goal is to plant a seed, and cultivate a life~long love of Art to grow in their little hearts, there are a few pieces of well~meaning advice I'd like to share with you.
When teaching your child to color...
Be patient.
It's easy, I know, to frustrate quickly when you put so much preparation into an activity or have high expectations for the way it should go, and then your child seems completely disinterested, or abandons the project altogether after two toddler minutes (that's more like two seconds, I think). When that happens, simply take a deep breath, and remind yourself learning is progressive. It's a process. Set the crayons and paper aside, and try again later.

Don't flip~out if when they nibble.
I can't tell you how many times I've looked over at my son while we're coloring together to find him grinning at me with a pair of green (or yellow or red or blue) front teeth. As long as the crayons are non~toxic, it's nothing to worry about. Babies explore and learn by touching and tasting. It's going to happen ~ time and time, again.

Guide them.
Gently place your hand over theirs, and press the crayon onto the paper with them (if they'll let you). Like training wheels, this technique will help get them familiar with and used to the motions. If they resist, don't force it. Just go with the flow.

Color with them.
Children learn by watching and following your lead. After all, right now, you are the center of their universe, and they want to do what you're doing, and be with you every moment of the day.

Engage them in the activity by drawing right along with them, and talk to them about what you are doing.

Draw a purple circle while saying, "I'm drawing a purple circle. See? What are you drawing?"

Even if they can't respond yet, it's good for children to hear words in context so they can begin to associate them with what's going on around them.

Let them discover.
When they're ready, step back, and let them figure out what to do on their own ~ in their own little way. Let them explore, and experiment with the colors on paper.

And, by all means, proudly display their first scribbles works of art on your fridge; on your walls; on your desk at work. Encourage them. Motivate them. Love them for who they are.