why hello. my name is Dawnelle. i am considered many things, mother and wife are at the top of the list. but you must not forget lover of sharpies, chief nose wiper, avid obsessor of texture and fabric, bohemian lover, interior designer, laundress, and the best book reader ever. i write over on Just Dawnelle about my sweet family and my life... what i think, feel, love, believe, do and obsess over.
I have a serious problem. I am completely and undeniably obsessed with paper. I love looking at it, using it, and collecting it. My favorite though is mixing the patterns and colors of scrapbook paper in unexpected ways.
For this project, I started with an empty mixed paper journal that I created. I then decided to make a little book with pictures of our family for my son to have. We're planning a move soon that is going to take us far from our family and that breaks my heart! I hate the thought of him not knowing them, not recognizing their faces, not knowing anything about them.
I gathered pictures of each member of our family, grandparents, aunts, uncles, and cousins along with a little information about each person, birthday, hair color, eye color, favorite ice cream and color. I designed a little card for each person with their picture and assembled it all together in the book.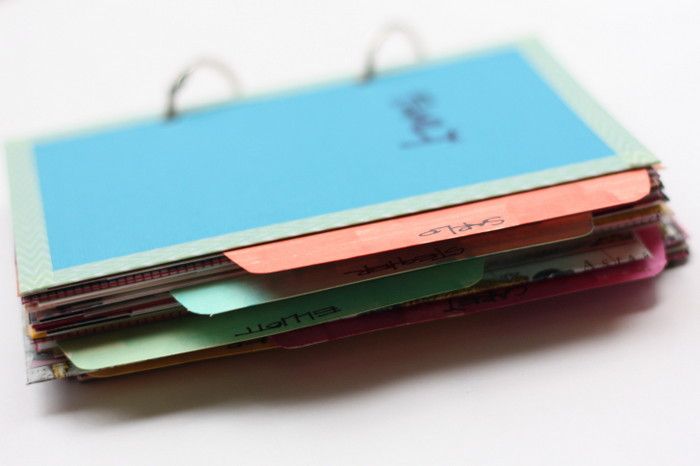 Each person got a spread with two facing pages for their picture and information. Everything was glued then accented and detailed with (you knew it had to be coming!) washi tape, tabs cut from some file folders, and stitching with the sewing machine. It turned into a little mini family scrapbook just for my kiddos and I LOVE it!!
I am so pleased with it, I just want to look at it over and over again. How do you think it turned out? I want to make more of these little gems, I won't lie!

The following fonts were used for the bio cards.
Bebas Neue
Geo Sans Light
Jellyka Saint Andrews Queen