why hello. my name is Dawnelle. i am considered many things, mother and wife are at the top of the list. but you must not forget lover of sharpies, chief nose wiper, avid obsessor of texture and fabric, bohemian lover, interior designer, laundress, and the best book reader ever. i write over on Just Dawnelle about my sweet family and my life... what i think, feel, love, believe, do and obsess over.
Now I know everyone but me is practically all decorated and ready for the holidays but I had to share this little project I did. I am completely in love with this little wrap job! (It might be though that I really just like wrapping gifts. Seriously my favorite part about Christmas I think.)
I love the mix of fabrics and colors as well as the random placement of the circles here. It has the perfect mix of bohemian, upcycled, hipness to it in my opinion! I think really it just screams... "DAWNELLE"
Strips of scrap fabric (you know the pieces that you cut off to square your fabric edges up work perfectly!)
Circle punch (or something to cut out circles... I am just a little obsessed with this circle punch at the moment...)
Begin by punching out all your circles. Super fun and oddly fulfilling... LOVE hole punches...
Once you have a great collection of little circles, marvel at the funness of them a while and then push them to the side. Promise we will get back to them!
Begin tying your strips of fabric together to get the desired length you want. Have fun with the fabric too! It doesn't have to match perfectly... that is what makes it different and exciting. The circles are going to bring it all together and make it cohesive.
When your fabric strips are the desired length begin stapling your circles on. Don't worry about being perfect, that's the fun part!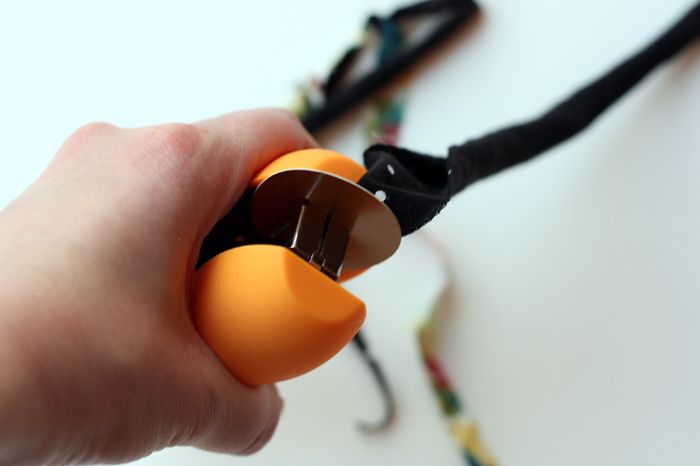 Once you have your packing all ready... wrap away!! For the tags I used little scraps of leather stamped with a hand cut triangle stamp. I love the contrast between all the perfect circles and the straight lines of the triangles.
Now, have fun with it! Seriously... you can make all your packages like little mini works of art. Okay maybe I like wrapping a little too much...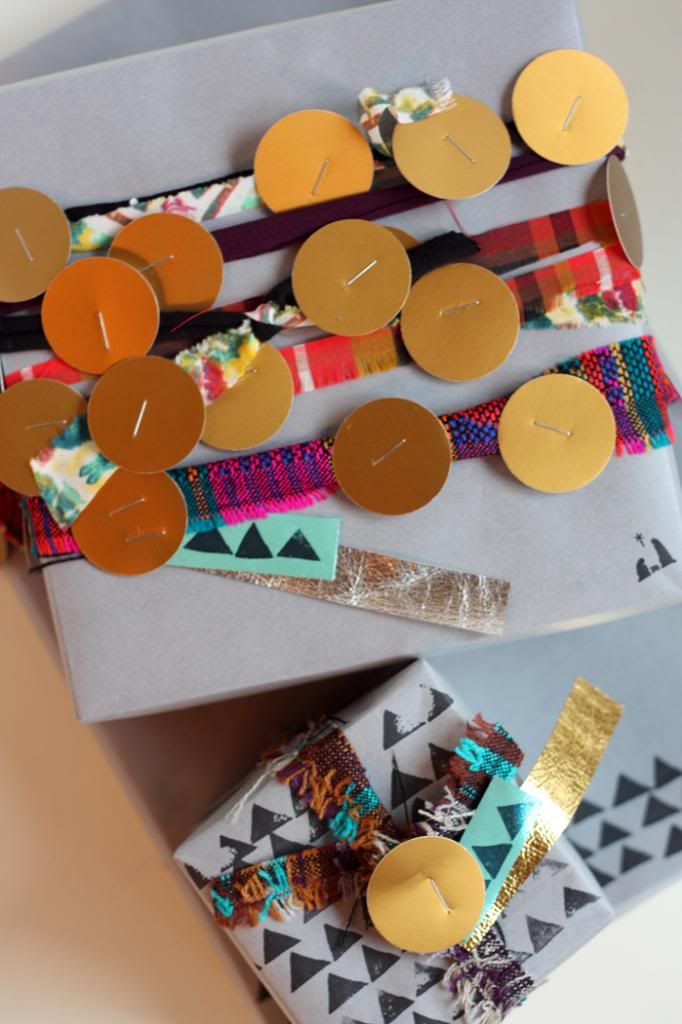 So what do you think?? Super simple right? Do you love it as much as I do?